.
India is very closer to become the worlds major producer of porcelain tiles.

Porcelain tiles are always one of the top choices of Indian manufacturers for ages. In India Porcelain and ceramic tiles are always used as the main decorative and protective wall material for centuries. India used ceramic tiles for the roofing which is still being used in many rural part of country.
Indian porcelain tiles industry is rapidly increasing as the demand for Indian tiles is increasing in every corner of the earth. Major consumers of porcelain tiles like the USA, UK, China, and many more. The world has accepted the quality and service standards of the Indian tile manufacturers and exporters.
The world market is seeing some major changes in the way of buying patterns of consumers around the world. Apart from good quality and pricing, the customer is now selective about the manufacturing country also. So the trust factor plays a major role in today's world market. This is where "Top Notch Tiles" comes into play, where we manufacture a wide range of tiles and safely deliver to our customers across the country.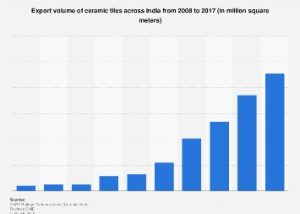 Indian porcelain tiles industry is growing slowly, but there is increase in the demand from January 2020. Customers around the world have shown their trust in India. Products and Indian manufacturers are also living up to the expectations of the world.
If you are a retailer, builder, or a big buyer of porcelain tiles or ceramic then you must contact any agencies in India before you make your purchase. We can also help you with your purchase as we are exporting to all the major countries in the world and we also have offices in the UK. You will surely get some better deals and better quality than others. To get a better idea you can visit our site www.topnotchtiles.com  or call us on +91 95741 91183.