The Indian porcelain tiles industry has made remarkable achievements in international markets in the last decade. Earlier the industry was very much limited to the Indian market. Factory owners did not provide with the proper facilities needed to grow internationally. But in the last decade, the scenario has changed dramatically.
Morbi is a big industrial area in India. It contains more than 900 factories today. They are manufacturing different sizes in various finishes. They manufacture clay products and mostly they only supplied to the Indian markets. Gradually they have started producing small-sized ceramic tiles.
Many Chinese companies and Italian companies are manufacturing their goods in Morbi based porcelain tile companies and supplying them to the world. India has some other industrial parts as well where porcelain tiles are made, but they are not as big as Morbi. Morbi is one of the reputed names in porcelain tiles manufacturing industries.
International markets of porcelain tiles are always dominated by Italian and Spain companies. They have that type of machinery and raw materials that were not available to the other countries. When the transport facilities grew and trade ties between the governments improved, it became easy for the Indian companies to change their way of manufacturing tiles. They adopted the advance technologies and put their first step into the international market. Today when you look at these companies almost a decade after, most of them are doing a good amount of export in each and every corner of the world.
Quality and production capacity is increasing day by day. New factories are coming and old ones are advancing their technologies. It is not very far that the Indian companies will be the major supplier of porcelain tiles to the world.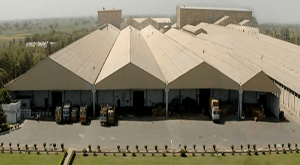 Youngblood has played a big role in advancing the Indian porcelain tiles industry. Most of the factories have owners of around 35 years of age, well educated and connected to the world. Indian companies have their presence today at every big and small event related to the porcelain tiles industry.
As being a manufacturer and exporter of porcelain tiles from India, we also would like to urge the world to believe in our quality and provide us a chance to supply you with the best porcelain tiles in the world.